A list of Halloween, horror and yard-haunt forums. Feel free to vote on your favourite and add any that are missing.
Halloween, horror & yard haunt forums
Jun 06, 2013 - allthingszombie.com -

40

The latest and greatest in zombie horror happenings! And other horror stuff too.
Jun 06, 2013 - halloweenforum.com -

45

Halloween Discussion Forum, Haunts and Home Haunt Community.
Jun 06, 2013 - hauntcon.com -

41
The Haunted Attraction Tradeshow and Conference (HAuNTcon) is an convention "Designed by Haunters, for Haunters" of every age and level of experience. Four fun-filled days and nights filled with Educational Seminars, Workshops, Trade Show, Haunted garage Sale, Custom Hearse Show and networking socials like the incredible Costume Ball, who's theme this year is The Texas Chainsaw Massacre Masquerade.
Jun 06, 2013 - hauntforum.com -

45

This is a discussion forum for Halloween and for amateur and professional haunters, prop builders, and actors to share information.
Jun 06, 2013 - flickr.com -

53

Welcome everyone, to the Hocus Pocus group! This group is for all those whom admire the spookiness that All Hallows Eve has to offer. Please take this time to join the group and post your very own photos (Halloween related) and to view and comment everyone elses.
Jun 06, 2013 - horrorfind.com -

51

Horror search engine, find horror. Features all horror all the time. Looking for horror movies Halloween werewolves vampires ghosts monsters witches find them here at the largest horror and halloween resource on the web.
Jun 06, 2013 - plus.google.com -

41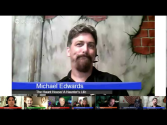 A scary place for Halloween enthusiasts of all types. Haunters home and pro, actors, crafters, prop builders. Zombies accepted. Jump in and post pictures and videos of your creations, projects, accomplishments, and scary self. Sound off about your mostest scariest experience ever! Community Rules (what our moms always told us): 1.
Jun 06, 2013 - plus.google.com -

51

Jun 06, 2013 - plus.google.com -

52

Horror can be a great, spine-chilling genre of writing for any writer. Use this Community for getting ideas and help with your pieces! Let's try to be supportive and helpful towards other people and plagurizing ideas is definitely not okay. Other than that, go crazy!
Jun 06, 2013 - plus.google.com -

45
This is the Haunted House Industry Group. If you are into Haunted Attractions, Home Haunts, Yard Displays, Halloween, Dark Rides, or Anything Dark & Scary...you'll find something here. Come join us...
Jun 06, 2013 - plus.google.com -

54

All Things Halloween is community to find inspiration for the month of October. Please join and share your pictures ideas and favorite haunts. This is the place for you Halloween costume, decorations and party ideas.